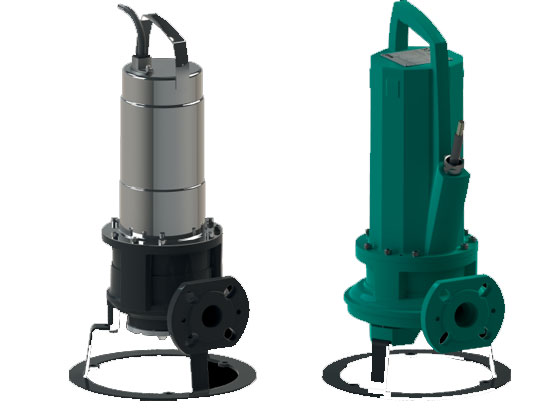 Your advantages
Especially reliable due to ATEX approval and longitudinally watertight cable inlet (CUT GE…)
Excellent operational reliability due to spherically formed macerator with pulling cut
Long service life through a high-quality motor seal with two independent mechanical seals and optional pencil electrode for sealing chamber control
Construction
Submersible sewage pump with macerator for intermittent duty and continuous duty, for stationary and portable wet well installation.
Application
Pumping of
Sewage containing faeces in accordance with (DIN) EN 12050-1
Wastewater
Equipment/function
Macerator with internal or external blade and pulling cut
Winding temperature monitoring with bimetallic strip
ATEX approval (with motor version "P")
Optional external pencil electrode for the sealing chamber monitoring
Technical data
Mains connection: 1~230 V, 50 Hz or 3~400 V, 50 Hz
Submerged operating mode: S1
Operating mode, non-immersed, CUT GI: S2-15 min; S3 10 %
Operating mode, non-immersed, CUT GE: S2-30 min; S3 25%
Protection class: IP68
Insulation class: F (CUT GE: optionally H)
Fluid temperature: 3…40 °C, max. 60 °C for 3 min
Max. immersion depth: 20 m
Cable length: 10 m
Materials
Motor housing: 1.4301 (motor version "S") or EN-GJL-250 (motor version "P")
Hydraulics housing: EN-GJL-250
Impeller: EN-GJL 250
Shaft end: Stainless steel 1.4021
Macerator: interior blade = 1.4528; external blade = Abrasite/1.4034
Sealing on pump side: SiC/SiC
Sealing on motor side: C/MgSiO4
Static gaskets: NBR
Description/construction
Submersible sewage pump with internal or external macerator as submersible monobloc unit for stationary and portable wet well installation in intermittent and continuous duty.
Hydraulics
The outlet on the pressure side is designed as horizontal flange connection with a DN 32/40 combined connection. The maximum possible dry matter is 8 % (depending on the hydraulics) Single-channel and multi-channel impellers are used.
Motor
Single-phase and three-phase current surface-cooled motors for direct starting are used as the motors. The waste heat is given off directly to the surrounding fluid via the motor housing. These motors can operated immersed in continuous duty (S1) and non-immersed in short-time duty (S2) or intermittent periodic duty (S3).