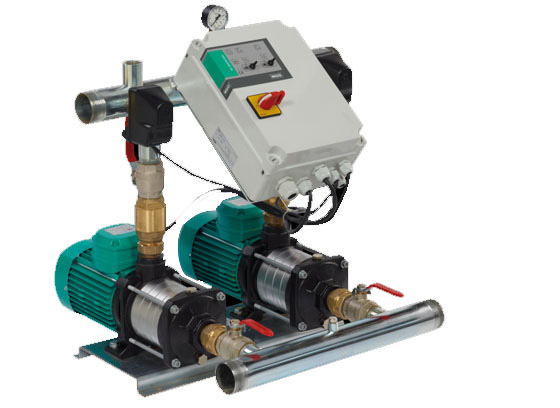 Your advantages
High operational reliability, thanks to system with two horizontal multistage MHIL pumps with stainless steel hydraulics
Highly efficient EC motor with IE3 class for three phase motors from 0.75 kW and larger
Drinking water approval (ACS) for pumps with components made of stainless steel that come into contact with the fluid
Simple operation thanks to Basic Control switchgear with all necessary functions
Construction
Ready for connection, non self-priming water-supply unit with 2 parallel-switched, horizontally arranged high-pressure multistage centrifugal pumps with fixed speed in glanded design of the MHIL series, equipped with BC switchgear.
Application
Fully automatic water supply and pressure boosting in residential buildings and small commercial locations.
Pumping of drinking water and clean process water and other water mixtures that do not chemically or mechanically attack the materials used and do not contain any abrasive or long-fibre constituents.
Type key
| | |
| --- | --- |
| e.g.: | Wilo-COE-2MHIL305-DM/BC |
| COE | Compact pressure boosting system |
| 2 | Number of pumps |
| MHIL | Pump series |
| 3 | Rated volume flow [m3/h] |
| 05 | Number of pump stages |
| DM | 3~ (EM: 1~) |
| BC | Switchgear |
Technical data
Mains connection 3~400 V, 50 Hz or 1~230 V, 50 Hz
IE3 standard motor for 3~ from 0.75 kW (for 1~ : IE1 standard motor)
Fuse A, AC 3 on mains side according to motor power and EVU regulations
Max. fluid temperature of +50 °C (+70 °C optional)
Operating pressure 10 bar
Inlet pressure 6 bar
R2" nominal connection diameter
Protection class: IP54 (3~) and IPX4 (1~)
Type key
| | |
| --- | --- |
| Example: | Wilo-COR-4 Helix V 2203/1/K/CC |
| CO | Compact pressure boosting system |
| R | Control of the respective base-load pump via frequency converter in the switchgear |
| 4 | Number of pumps |
| Helix V | Pump series |
| 22 | Rated volume flow [m3/h] of the single pump |
| 03 | Number of single-pump stages |
| 1 | Number of trimmed impellers of a pump |
| K | With cartridge mechanical seal |
| CC | Control unit; CC = Comfort Controller |